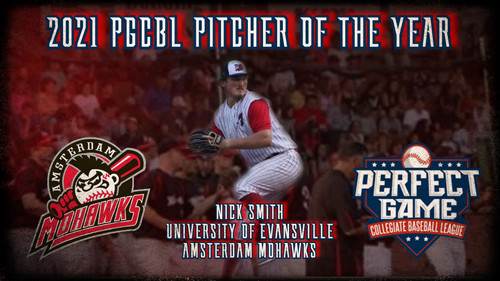 Nick Smith (U. of Evansville) of the Amsterdam Mohawks has been named the 2021 Perfect Game Collegiate Baseball League Pitcher of the Year. Smith becomes the second pitcher in Amsterdam's history to win the award.
Smith was an integral part of the Mohawks staff which reached the PGCBL Championship in 2021. The Indiana native led the league with a 1.51 ERA through 35.2 innings of work this summer. Smith finished the year with 46 strikeouts, which ranks in the top ten, helping him to a 4-1 record.
Smith did not allow more than four hits in any of his outings while also making four separate appearances of five or more innings without allowing a run.
Smith spent the summer almost 900 miles from his home of Boonville, Indiana but he is very thankful for everyone in his corner, both back home and in Amsterdam.
"I'm thankful for all my family, my coaching staff at the University of Evansville, the coaches with the Mohawks, Carla (athletic trainer) and the training staff for keeping us healthy and Bob Adamson (host family) for welcoming us with open arms," Smith said.
Two things the Amsterdam Mohawks are well known for is their home crowd and their excellent coaching; Smith gives lots of credit for his amazing summer to both of those factors.
"We had a great atmosphere. Coach Griffin (Head Coach) was honest with us all the time. Zach Breen (Pitching Coach) was always willing to work with us no matter what time it was. It was nice having such a good team behind me to make my job a lot easier," Smith said.
Smith says an integral part of the Mohawks success was the crowd at Shuttleworth Park, and it was very easy for the team to feed off their energy.
"Shuttleworth is awesome. I'd heard things about it but even with everything I heard, I never expected it to be quite like it was. It was electric and we fed off the fans always showing up in big crowds and supporting. It was neat to see the whole community come support us every night," Smith said.
The PGCBL will be announcing its final yearly award, the PGCBL Player of the Year, on Friday.