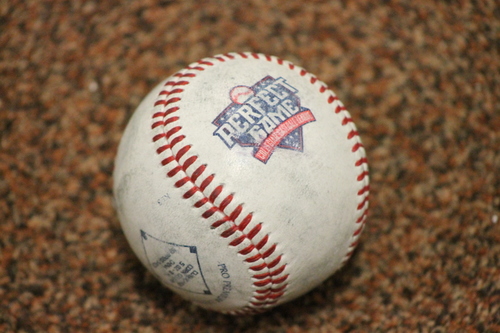 An Amsterdam Mohawks all-star and two workhorses in the West Division are taking home this week's awards.
Tyler Frank of Amsterdam has been named PGCBL Player of the Week for the week starting July 11 and ending July 17. On the mound, Cory Blessing of the Jamestown Jammers and Brennen Smith of the Victor RailRiders share the Pitcher of the Week award.
Over the seven days, Frank hit .476 with three home runs and 11 RBIs. He walked six times and ended with week with six extra-base hits during the stretch. Frank also stole seven bases during the week. It's the second time this season he's been named Player of the Week, also garnering the honors in Week Five.
The Florida Atlantic product now has a .333 average on the season with 29 RBIs, 10 extra-base hits and 13 stolen bases. He has a 1.000 OPS and has drawn 24 walks.
At Florida Atlantic this year, Frank appeared in 45 games during the college season this year and hit .285 in those games. He drove in 27 runs and walked 27 times for an on-base percentage over .400.
Brennen Smith (Canisius College) and Cory Blessing (Ohio University) share the honor of Pitcher of the Week after both went deep into games without allowing a run.
On July 16, Smith struck out five over eight scoreless innings, eventually garnering a no decision. He allowed just three hits, lowering his batting average against on the season to a mere .157. He has a 0.71 ERA on the summer and has also posted a 1.18 WHIP to go with his 4-1 record and league-leading 51 innings pitched.
Blessing earned the win on July 11 after allowing no runs over seven innings as he earned the win in Jamestown's 6-0 triumph over Utica. He gave up just three hits and struck out four in the game. The start lowered Blessing's ERA on the season to 0.69 and he has a 0.92 WHIP, walking just four batters so far this summer. He's 3-1 in 18 appearances.
For all the latest news, scores and updates, follow the PGCBL on Twitter, @PGCBLbaseball.