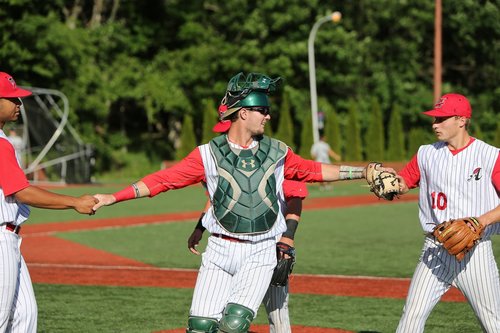 The Perfect Game Collegiate Baseball League is pleased to announce that Joe Genord of the Amsterdam Mohawks has been selected as the 2016 PGCBL Player of the Year.


Genord hit .296 on the season and led the league with seven home runs and a PGCBL record 45 RBIs. He stole five bases, drew 30 walks and anchored a lineup that led Amsterdam to its fourth championship in five years.
Outside of the Triple Crown categories, Genord hit 14 doubles and also scored 32 runs. His .942 OPS was in the top five of the league among qualifiers. The South Florida product's 32.967 Runs Created led the league and his SECA (secondary average) of .447 was also among the league leaders.
"Genord is a really good prospect. A quality catcher that can hit for average and power. Reminds me a lot of former Mohawks catcher Luke Maile who is now in the Major Leagues," said PGCBL President Jeff Kunion.
He was a force during the playoffs as well, hitting .333 with a home run and seven RBIs. In Game Two of the PGCBL Championship Series, which Amsterdam ultimately won to win the title, Genord hit two doubles.
At Shuttleworth Park, Genord hit .319 with 28 RBIs and his seven home runs. With runners in scoring position, he posted a .350 batting average. He started at catcher for the East Division All-Stars in this year's All-Star Game.
Genord is the third Mohawk to win the award, following in the footsteps of Josh Gardiner in 2014 and John Nogowski in 2013. He's the first catcher to receive the honor.
"The season as a whole was a good reminder of the ups and downs—the real beauty—of baseball. It was a lot of fun and I learned some things with Coach Grif (Amsterdam head coach Keith Griffin) and it was a great learning experience and great doing it for the fans," Genord said after the Mohawks won the PGCBL Championship.
At South Florida this year, Genord hit .270 in 45 games while slugging six home runs and driving in 21 runs.
"What a season. He lived up to his billing — a lot of big hits, a lot of home runs and RBIs. He was consistent all year and he hasn't caught a ton in his life so producing offensively the way he did while fine tuning his catching skills, it's a testament to how good a player he is," said Amsterdam owner Brian Spagnola.
Player of the Year

2016- Joe Genord, Amsterdam
2015- Christian Santisteban, Elmira
2014- Josh Gardiner, Amsterdam
2013- John Nogowski, Amsterdam
2012- Ross Kivett, Glens Falls
2011- Erick Gaylord, Watertown

The PGCBL is affiliated with Perfect Game, the largest independent scouting service in the country. Last year, more than 1,400 professional players had either worn the uniform of a PGCBL team or participated in a Perfect Game event.

For more information about the PGCBL, visit www.pgcbl.com and follow the league on Twitter, @PGCBLbaseball.