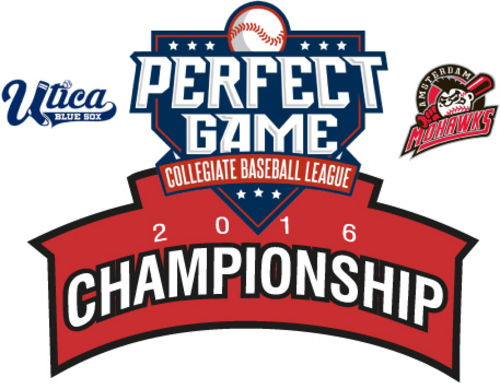 For all of the latest news stories on the Perfect Game Collegiate Baseball League, go to the "Press" page at the top right of this webpage.
Today is the seventh day of the postseason.
Last Night's Game:
Amsterdam 9 Utica 2
The Amsterdam Mohawks are now one win away from their fourth PGCBL Championship after a 9-2 win over the Utica Blue Sox in Game One of the PGCBL Championship Series at Donovan Stadium.
Utica took a 1-0 lead in the first inning on a Mitchell Calandra RBI single. Amsterdam got it back in the third inning on a Chris Givin RBI double before Utica re-took the lead in the fourth inning on a sacrifice fly. The Mohawks tied the game at two in the fifth inning on a Joe Genord RBI single.
A Marcus Still RBI triple and a sacrifice fly in the sixth inning gave Amsterdam its first lead of the game. A four-run seventh inning blew the game open for the Mohawks. Tristen Carranza hit a solo home run, an error scored a run, Andruw Gazzola hit an RBI single and Tyler Frank hit an RBI single to account for the four runs. A wild pitch in the ninth inning extended the lead to 9-2.
Cameron Enck earned the win for Amsterdam as he tossed six solid innings. Kevin Woebke took the loss for Utica.
Tonight's Game:
PGCBL Championship Series: Utica at Amsterdam 6:35 p.m.
Amsterdam leads series, 1-0

Season head-to-head: Tied at two

Amsterdam at home: 18-6 (regular season); 3-0 (postseason)

Utica on the road: 16-9 (regular season); 2-0 (postseason)
Playoffs:
In the PGCBL Championship Series, the lower seed—based on regular season record—will host game one, while the higher seed will host games two and three.
For all the latest scores and updates, follow the PGCBL on Twitter, @PGCBLbaseball.