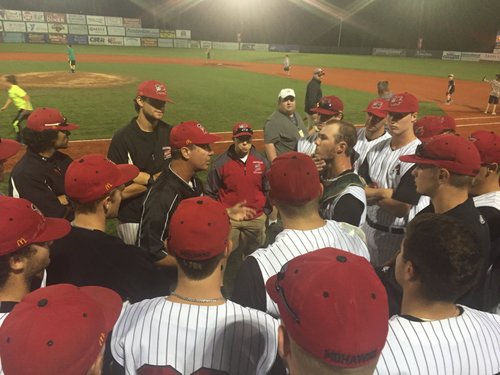 For all of the latest news stories on the Perfect Game Collegiate Baseball League, go to the "Press" page at the top right of this webpage.
Today is the fourth day of the postseason.
Last Night's Games:
Elmira 4 Utica 0
The Elmira Pioneers tied the West Division Championship Series at a game apiece with a 4-0 win over the Utica Blue Sox on the road.
Sean Hjelle was the story of the game as he tossed a complete game shutout with six strikeouts and he allowed just two hits in a game that lasted less than two hours.
The Pioneers took a 2-0 lead in the fourth inning on a walk and an error. A wild pitch in the sixth and an error in the eighth extended the lead to 4-0.
Gus Varland pitched well, allowing just the three runs in seven innings of work, but he took the loss.
Amsterdam 8 Albany 4
The Amsterdam Mohawks came from behind to take a 1-0 lead in the East Division Championship Series at Shuttleworth Park.
Amsterdam took a 1-0 lead in the first inning on a wild pitch before Albany tied it in the second on a groundout. Then in the fourth, Albany scored three runs on a groundout, a JJ Shimko RBI single and a Jack Gethings RBI single. Amsterdam pulled within one in the home half thanks to an error and a sacrifice fly.
The Mohawks took the lead in the sixth after Chris Givin tied the game with an RBI single and a bases loaded walk made it 5-4. A dropped third strike wild pitch made it a 6-4 game in the bottom of the eighth and Tristen Carranza brought in two additional runs with a double later in the inning.
Paul Milto earned the win for Amsterdam while Jackson Bubala took the loss for Albany.
Tonight's Games:
East: No. 1 Amsterdam at No. 2 Albany 7:05 p.m.
Amsterdam leads best-of-three series, 1-0

Season head-to-head: Amsterdam, 8-3

Albany at home: 14-11 (regular season); 1-0 (postseason)

Amsterdam on the road: 16-9
West: No. 2 Utica at No. 1 Elmira 7:05 p.m.
Series tied at 1

Season head-to-head: Utica, 5-2

Elmira at home: 17-8 (regular season); 1-1 (postseason)

Utica on the road: 16-9 (regular season); 1-0 (postseason)
Playoffs:
The higher seed in each divisional championship round hosts games one and three while the lower seed hosts game two. The winners of the best-of-three league championship series will meet in the PGCBL Championship Series.
In the PGCBL Championship Series, the lower seed—based on regular season record—will host game one, while the higher seed will host games two and three.
For all the latest scores and updates, follow the PGCBL on Twitter, @PGCBLbaseball.