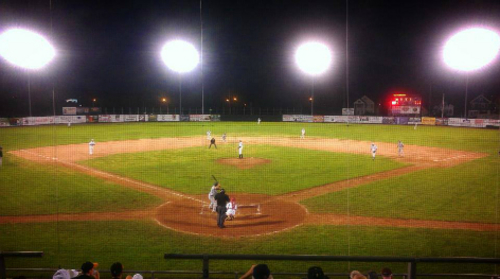 PGCBL Playoffs Information:
Playoff Teams: The top three teams in each division will qualify for the postseason.
Format: Teams will be seeded based on finish in the regular season standings in their respective divisions. Both the PGCBL East and West will have seeds 1-3. The opening round of the divisional playoffs will feature two winner-take-all games pitting the second seed against the third seed at the site of the second seed. The winner of the game will advance to the divisional finals to play the number one seed in a best-of-three series format. In the division finals, the one seed will host Game 1 and Game 3 (if necessary). The winners of the two divisional finals series will then meet in the PGCBL Championship Series. The highest remaining seed will have home-field advantage in the first and third games. If both teams have the same seed, the team with the best winning percentage will receive home-field advantage.
Round 1 of the playoffs (one game) will be July 31, 2014. The two divisional playoff games will pit the #3 seed at the #2 seed.
Round 2 of the playoffs (best of 3) will be Aug 1, 2 and 3. The winner of the 1st round playoff game will advance to face the regular season division champion. The regular season division champ would play at home for games #1 and #3.
The championship series (best of 3) will be Aug 5, 6 and 7. The winners of the two divisional championship series will meet, with games #1 and #3 at the stadium of the team with the better regular season winning percentage.
For all the latest scores and updates, follow the PGCBL on Twitter, @PGCBLbaseball.